Tuesday, May 31, 2005
Avatar Heaven
Monday, May 30, 2005
Just how good are those software requirements anyway?
Componetize it
Friday, May 27, 2005
Thinking about Thinking, Part 1 of 4
I have been invited to a roundtable discussion on thinking about thinking. I interpret this to mean how one can learn to think better or what one can do to practice to think better.
One idea is to use a thinking framework or tool. The hallmark of modern western thinking derives from
Aristotle
's
deductive logic
and
Bacon
's
inductive logic
combined into
Galileo
's
scientific method
. Using this framework should not be overlooked.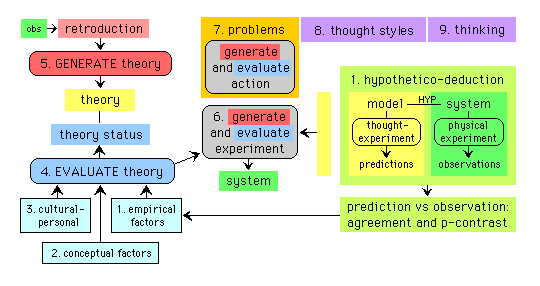 The simplest and maybe most widely used thinking tool is the
journalist framework
: who, what, when, where, why, and how.
Zachman
put this journalist framework in the columns of a matrix and added reference perspectives in the rows of the matrix to create a framework for use in thinking through enterprise architecture. Modifying the reference perspectives, or the artifacts in the cells to the problem at hand would yield a very robust thinking framework.
Another good thinking framework is
De Bono
's
Six Thinking Hats
.
Mindtools.com
summarizes these as follows:
White Hat:


With this thinking hat you focus on the data available. Look at the information you have, and see what you can learn from it. Look for gaps in your knowledge, and either try to fill them or take account of them. This is where you analyze past trends, and try to extrapolate from historical data.
Red Hat:


'Wearing' the red hat, you look at problems using intuition, gut reaction, and emotion. Also try to think how other people will react emotionally. Try to understand the responses of people who do not fully know your reasoning.

Black Hat:


Using black hat thinking, look at all the bad points of the decision. Look at it cautiously and defensively. Try to see why it might not work. This is important because it highlights the weak points in a plan. It allows you to eliminate them, alter them, or prepare contingency plans to counter them.
Yellow Hat:
The yellow hat helps you to think positively. It is the optimistic viewpoint that helps you to see all the benefits of the decision and the value in it. Yellow Hat thinking helps you to keep going when everything looks gloomy and difficult.
Green Hat:


The Green Hat stands for creativity. This is where you can develop creative solutions to a problem. It is a freewheeling way of thinking, in which there is little criticism of ideas. A whole range of creativity tools can help you here.
Blue Hat:


The Blue Hat stands for process control. This is the hat worn by people chairing meetings. When running into difficulties because ideas are running dry, they may direct activity into Green Hat thinking. When contingency plans are needed, they will ask for Black Hat thinking, etc.
[continued in part 2 . . .]
Thinking about Thinking, Part 2 of 4
Thinking about Thinking, Part 3 of 4
Thinking about Thinking, Part 4 of 4
Thursday, May 26, 2005
Internet Appliance
Inny or Outty
IT Consulting
Wednesday, May 25, 2005
Narrating Your Work . . .
The Big Time?
Getting a Facial
Random Thought
Great Music Links
Hold hands and sing S.O.A.
Tuesday, May 24, 2005
Don't Try This at Home
MS Virtual Earth vs Google Earth
Cyber Extortion Attack
Friday, May 20, 2005
Crying While Eating
Google as Portal
Thursday, May 19, 2005
All Podcast Radio
Bad RFID
Wednesday, May 18, 2005
Dead Podcasts
New External Links
Tuesday, May 17, 2005
Readers as Partners in Conversations
Monday, May 16, 2005
Great iPod Case
IBM Blue picks Firefox Orange
CNN gets a White Hat
Kumbaya
Friday, May 13, 2005
Firefox Fixes
Tuesday, May 10, 2005
Interesting . . .
Tiger Terror
BioTech Food in Your Bowl
Baby Babble Machine Translation
Monday, May 09, 2005
Emergence
Knowldege Trees Falling Down?
Whoopsie
Saturday, May 07, 2005
My First Wikipedia Graphics
Casey Jones, Watch Your Speed!
Thursday, May 05, 2005
Google beats Microsoft in Software
AMD beats Intel in Dual Core
Wednesday, May 04, 2005
flickr Fan